Online Teaching
Class Suspension (From Feb 3rd, 2020 to Feb 29th, 2020)
After careful consideration by management, we feel it is our organization's responsibility to participate in the fight against the spread of this disease. As a result, in order to absolutely ensure your children's safety, we have decided to suspend all in-person lessons at our centers until Feb 29th, 2020. Our centers will however remain open during regular hours for inquiries during this time. We will continually re-evaluating the situation and will provide updates whenever we can.
Click HERE for more information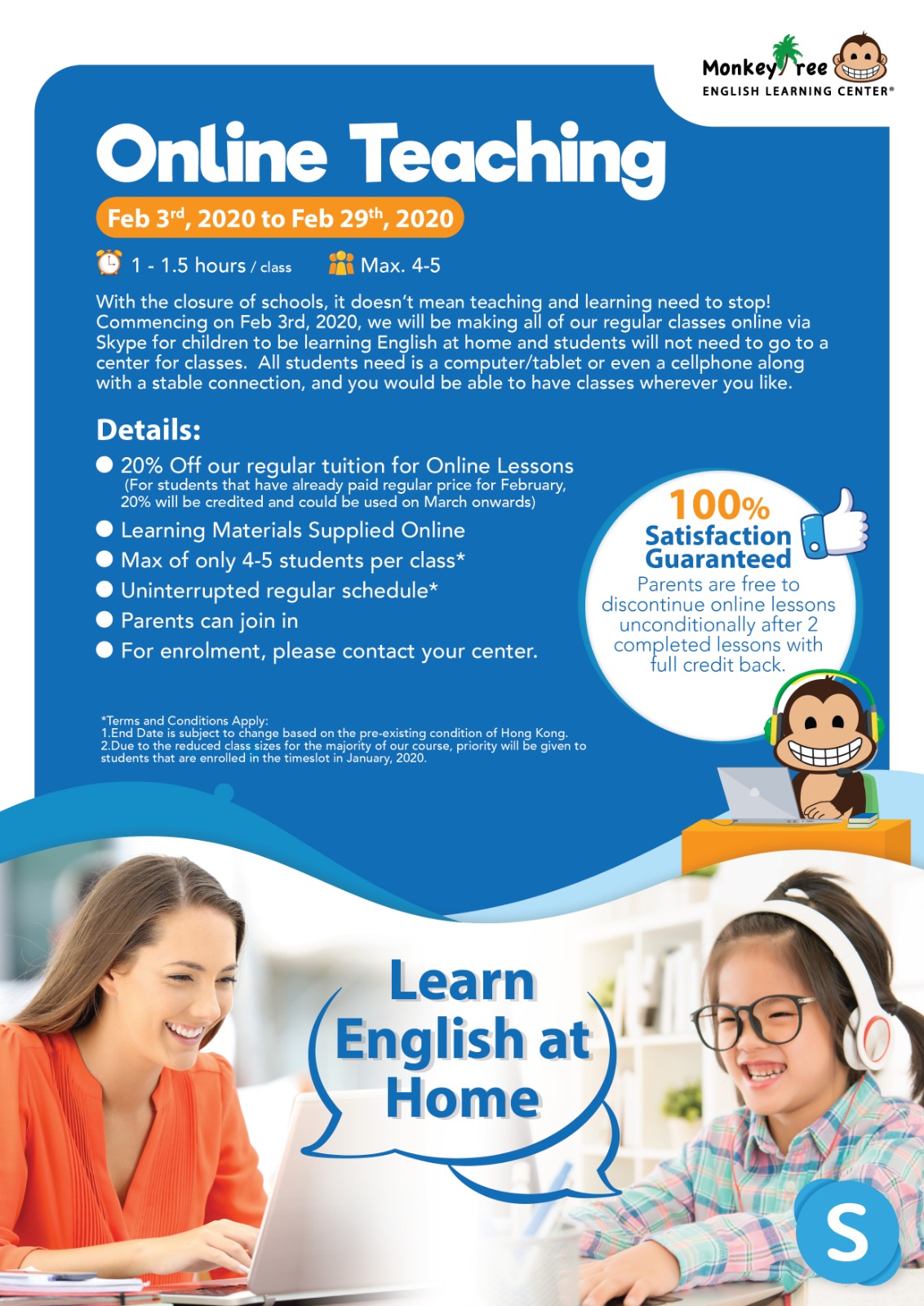 Online Teaching (From Feb 3rd, 2020 to Feb 29th, 2020)
With the closure of schools, it doesn't mean teaching and learning need to stop! Commencing on Feb 3rd, 2020, we will be making all of our regular classes online via Skype for children to be learning English at home and students will not need to go to a center for classes. All students need is a computer/tablet or even a cellphone along with a stable connection, and you would be able to have classes wherever you like. Details:
1. 20% Off our regular tuition for Online Lessons. (For students that have already paid regular price for February, 20% will be credited and could be used on March onwards)
2. Learning Materials Supplied Online
3. 4-5 students per class*
4. Uninterrupted regular schedule*
5. Parents can join in.
For enrolment, please contact your center representatives for details.
*Terms and Conditions Apply:
1. End Date is subject to change based on the pre-existing condition of Hong Kong.
2. Due to the reduced class sizes for the majority of our course, priority will be given to students that are enrolled in the timeslot in January, 2020.