Chat Room
Ages: 3-6
2 - 5 classes / week
1 hour / class
Max.8
Levels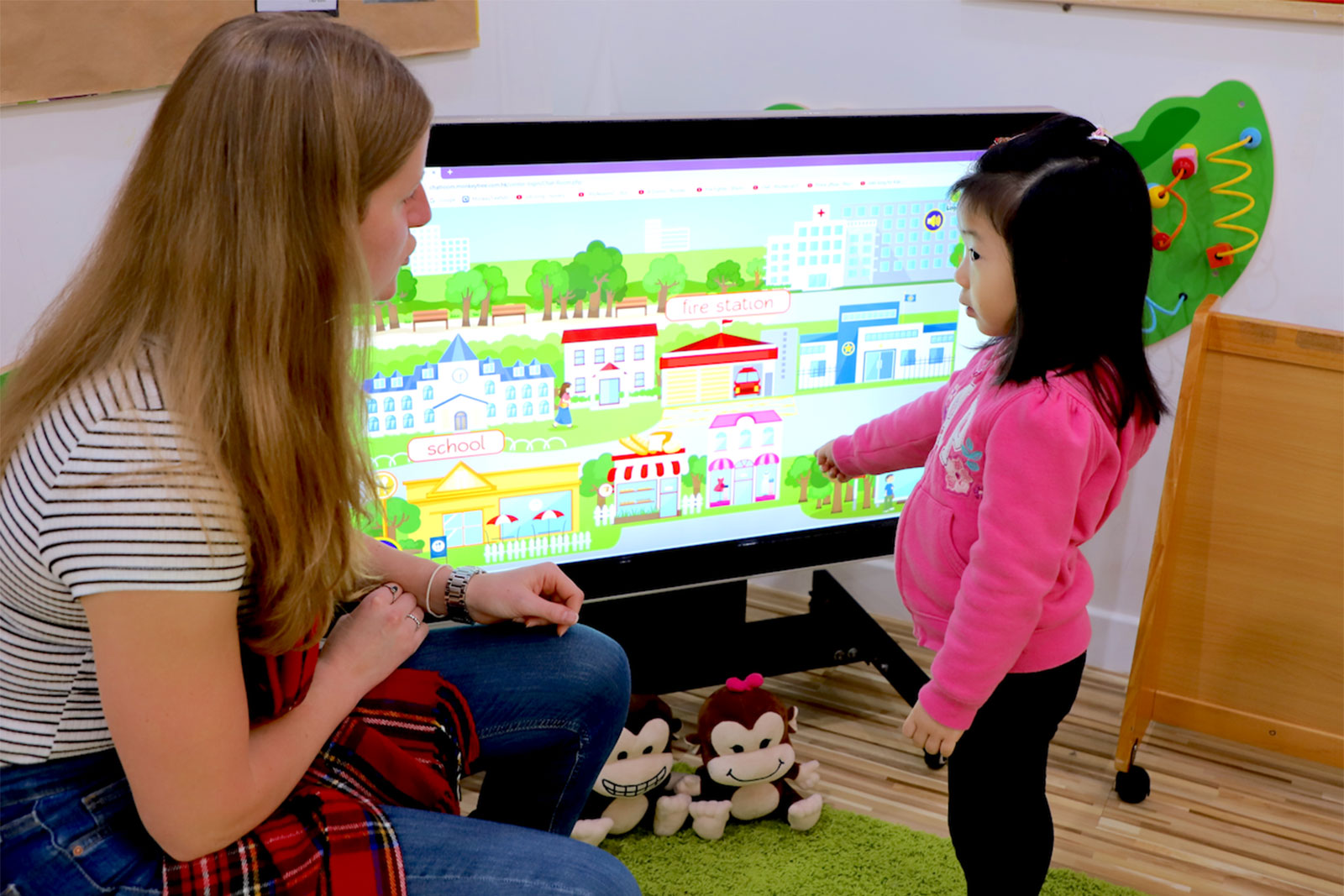 Course Description - Chat Room Hong Kong
Chat Rooms are an interactive medium used to facilitate and aid children in the learning of the English language. Monkey Tree Chat Room are one-hour sessions that engage children in oral activities, peer interaction and hands-on learning. Through the use of flashcards, games, stories, worksheets and music, students are able to learn English while being engaged and active. Chat Rooms HK are designed to have students interact in a strictly English environment with a native speaker, to hear English on a regular basis and accordingly to progress quickly in their learning.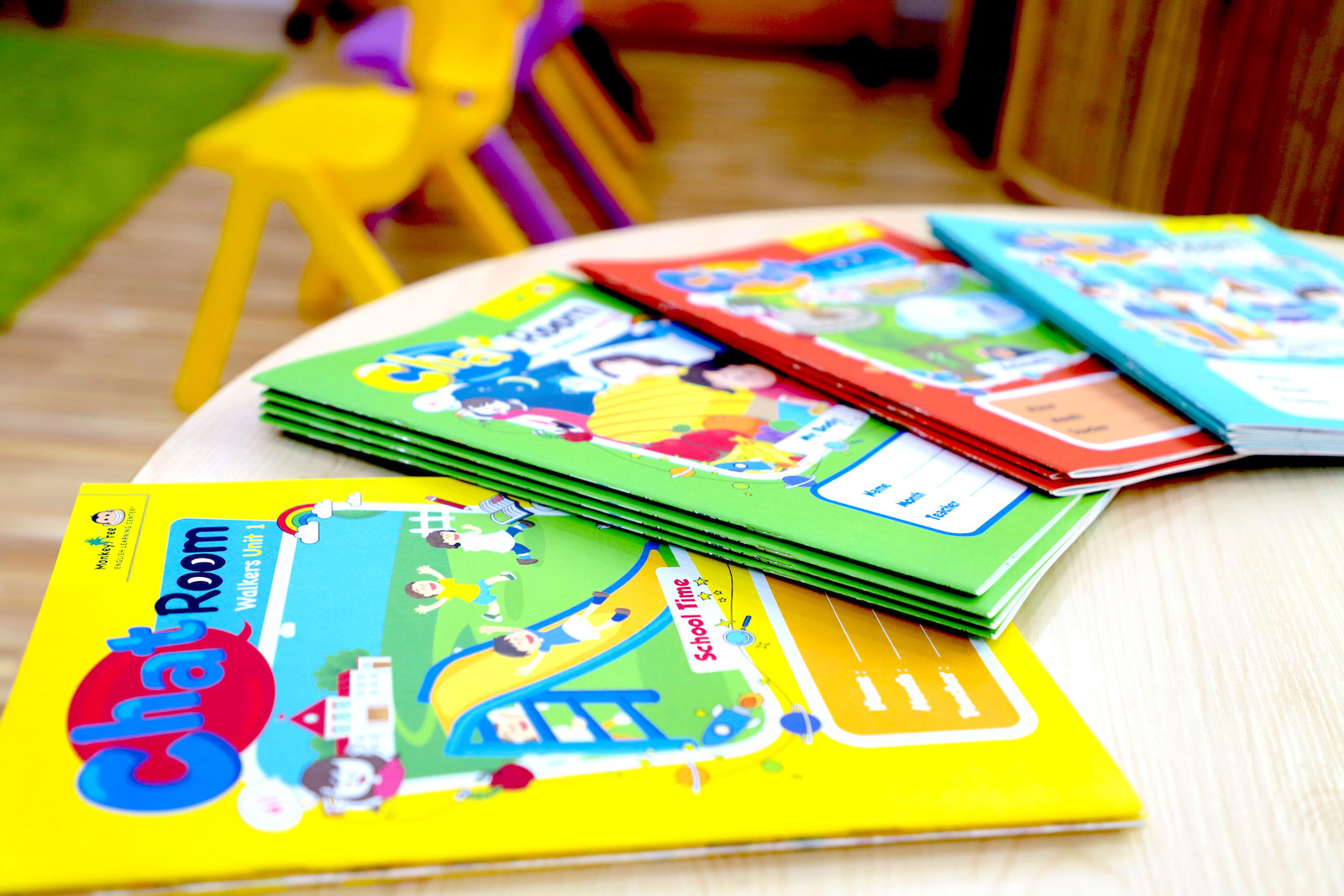 Course Levels
Chat Rooms are divided into two levels, namely "Walkers" and "Runners". The "Walkers" level is for students aged between 3 and 4 years with a lower level of English. The "Runners" level is designed for students aged 4 to 6 years who may have a slightly higher level of English.
Interactive Learning
Monkey Tree has developed interactive software that is specifically tailored to our Chat Room HK lessons. They utilize interactive images, flashcards, and games to help facilitate and reinforce the learning objectives and target language of our monthly themes. These games also help teachers assess and promote students comprehension and listening abilities.
Daily Themes
To facilitate learning our Chat Rooms follow one theme per month with two sub-themes - introducing new vocabulary words and sentence structures. The Chat Room hk program runs Monday through Friday with each day having its own daily focus activity.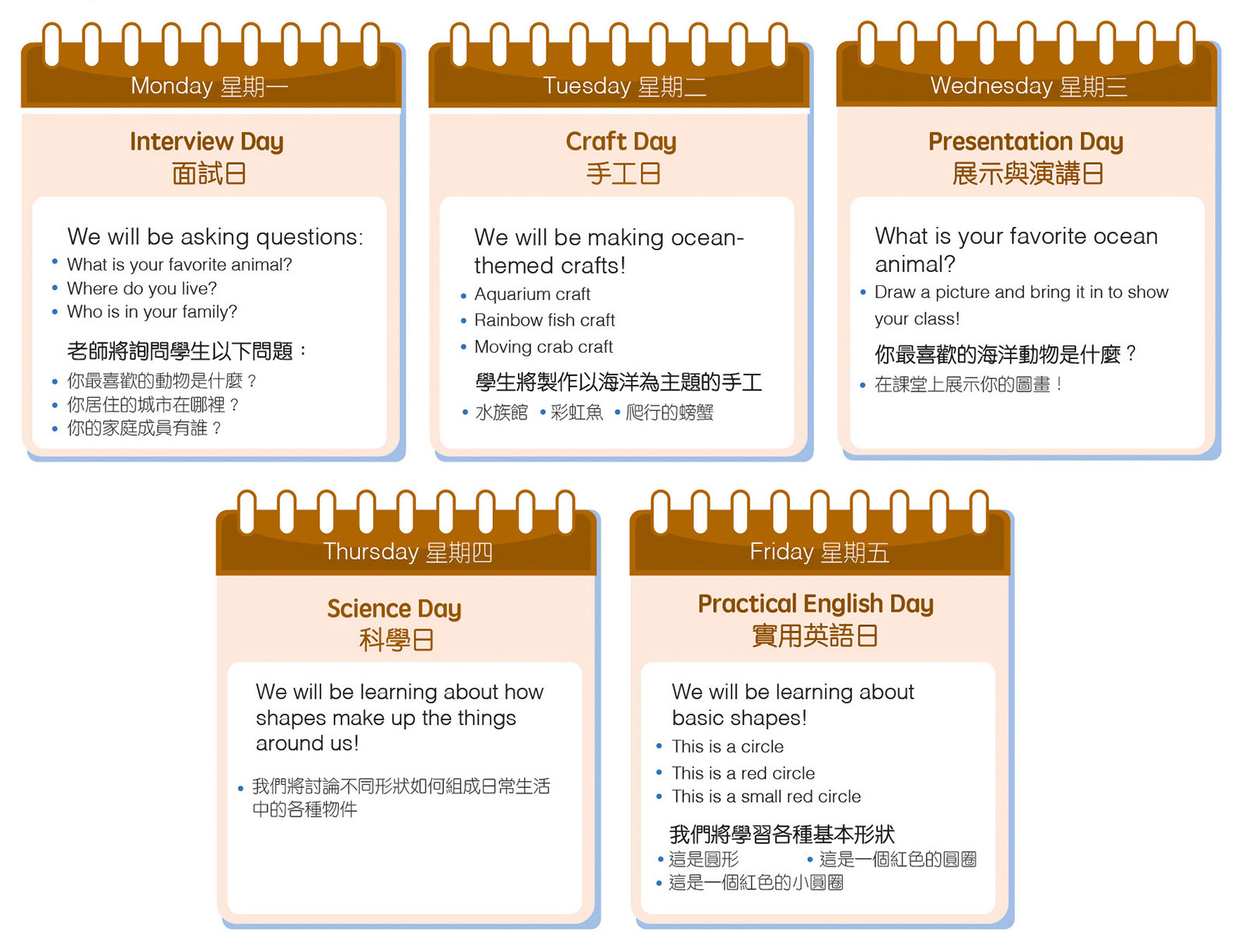 Monday 's theme is "Interview day". Interview day is designed to have children learn proper sentence structure and build confidence. This day also helps our students to prepare for similar circumstances they encounter in school interviews. By having the interview questions follow the vocabulary, students should recall past vocabulary words and build off of their knowledge. The questions are changed on a bi-weekly basis so that the students can learn through repetition.
Tuesday is our "Craft Day" and is based on the monthly theme. The craft is used to encourage the students to have fun and learn in a creative, hands-on way, as well as to help develop their fine motor skills.
Wednesday 's theme is "Presentation Day". Presentation Day can include a myriad of opportunities for students to present something. It can include Show and Tell, clothes description, "Mystery Box," drawing a picture and presenting, etc. These activities are designed to have students speak in full sentences, using proper pronouns and adjectives as Daily Themes To facilitate learning, our Chat Room follows one theme per month with two sub-themes - introducing new vocabulary words and sentence structures.
Thursday 's theme is "Science Day." This is a day where students engage with the teacher and each other to complete a science experiment. Students will start to develop a basic understanding of the world around them.
Friday 's theme is "Practical English Day". The Practical English is changed on a bi-weekly basis to allow the students' time to properly learn what is being taught. Topics covered can consist of colors, numbers, days of the week, months, etc.


Packs
Each Chat Room hk student receives their own Chat Room pack each month. These packs encompass the monthly themes and are used to help facilitate greater comprehension and check student understanding. The packs offer a comprehensive look at the monthly topic of our Chat Room classes and include activities for the students to complete during their lessons. Some of these activities include:

Vocabulary: The vocabulary (eight words for Walkers, twelve words for Runners) is presented on the interactive board as well as their packs and is introduced to the children through drilling and games. The vocabulary is done daily Monday through Friday and is incorporated throughout the lesson. Our Monkey Tree teachers present the vocabulary in a fun and energetic way, through the use of stories, pictures, actions, realia, and role-play to help facilitate learning and encourage students to participate in activities.

Singing: We utilize songs every lesson in Chat Room as a creative way for students to grasp new themes. We build students confidence and reinforce memorization of our theme by infusing learning topics and target language into well-known tunes.
Concept Check: The concept checks offer parents a fun and easy way to test their children on what they've learned for the month in their Chat Room lessons.
Practical Skills: The Practical Skills give parents the opportunity to follow up on the Practical English Skills students have been practicing during their Friday Chat Room lessons.
Vocabulary Practices: Vocabulary Practices are completed each day (except Tuesdays and Thursdays) during Chat Room lessons and include but are not limited to matching, tracing, listening, and identification activities.
Science Log: The Science Log consists of worksheets where students are able to document what they've learned or experience during their Science experiments during Thursday's Chat Room lessons.
Extra Fun: We've also included some extra activities at the back of our Monkey Tree Chat Room packs that students can complete at home or during extra time in class.

Students are able to take home their Chat Room packs at the end of every month, by which point teachers will have completed a monthly report on the students' progress. Students will be graded on a scale of one to five (one being poor and five being excellent), in the areas of: Speaking, Listening, Concentration, Behaviour, and Vocabulary as well as an Overall grade.
Progress report:
Every student enrolled in our Chat Room in Hong Kong is given a student progress folder. Our teachers use these to provide parents with detailed, academically-orientated written feedback on how their children perform in every lesson. The teachers comment on what was covered in the class, where the student performed well and if there are any areas that require revision in future classes. This allows parents to stay up to date with and closely track their child's development through the course.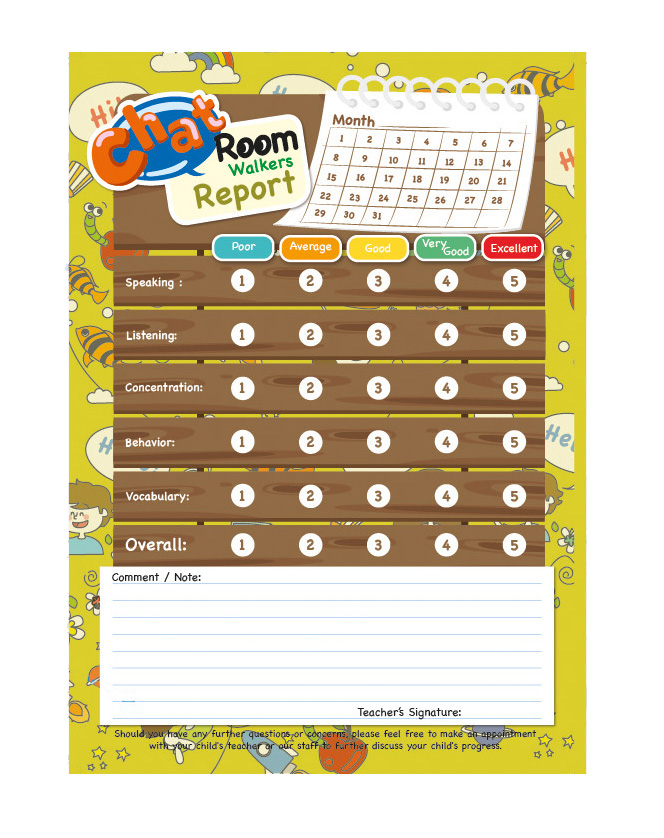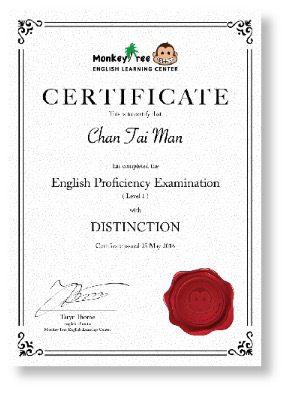 EPE & Certificate
After each stage of language acquisition, parents have the option of signing their children up for the English Proficiency Exam (EPE) which tests their child on their Vocabulary Knowledge, Language Usage, Pronunciation as well as their abilities to listen and respond. By completing the EPE exam, students can receive a recognized English Proficiency Certificate with an overall mark of: Pass, Merit or Distinction.